Helping Children on and off the Bus Safely
Taking your child to the bus stop in the morning and waiting on the correct side of the road for the bus to arrive
Never leave young children alone at the bus stop
Wait a safe distance away from the road at the bus stop
When the bus arrives at the stop, make sure the driver can see your child at all times
Make sure they have their bus pass or money ready for the driver
Meeting your child at the bus stop in the afternoon and waiting on the side of the road the bus stops on
Be on time when meeting your child
Move away from the bus when you have met your child at the bus door
Wait until the bus has driven away and until there is plenty of visibility in both directions before crossing any road. Remember to Stop! Look! Listen! Think!
STOP!
one step back from the kerb
LOOK!
continuously both ways
LISTEN!
for the sounds of approaching traffic
THINK!
whether it is safe to cross and keep checking until safely across
By following these simple suggestions, you can help us keep your children safe.
Care for Children
We are very aware of the need to care for children travelling on our buses. When children get onto the wrong school bus, the driver will contact the depot or arrange to transfer the child to the correct bus or keep them on the bus until the bus returns to the depot. We will contact you where we have been provided with contact details.
PLEASE ADVISE CHILDREN NOT TO GET OFF THE BUS ANYWHERE OTHER THAN THEIR CORRECT BUS STOP.
In adverse weather conditions contact the office for any timetable changes and/or check the website.
Driving Safely Near School Buses
There is a 40km/h speed limit for traffic passing a school bus that is setting down or picking up school children. This speed limit is for all traffic travelling in the same direction as the bus, whether the bus is stationary or moving
Lights will flash on the front and back of the bus reminding drivers that there may be children crossing or about to cross the road.
Buses can't stop quickly because they are large and heavy vehicles. So, remember:
Reduce speed to 40km/h when bus lights are flashing
Give way to buses
Watch out for children crossing
Never park in or near a bus stop or bus zone.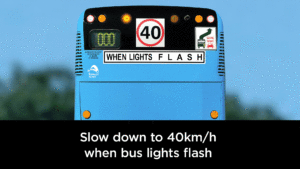 Informal School Bus Stops
Informal bus stops are not signposted and are usually found in rural areas. They may be at the front of a property, or on the side of the road, which may make children difficult to see.
Leave plenty of space when you're driving or stopped around buses, to keep children safe and improve bus drivers' vision of the road environment.
More Information
Transport for NSW develops and produces the following road safety education resources to help improve the safety of all school students in NSW.
For NSW Primary Students visit the Safety Town website
For Secondary Schools visit the On The Move Secondary Road Safety Education
Agent Walker: Operation Safe Transit bus safety video below was produced for school students in years 5 and 6, who are starting to gain independence, and their teachers, parents and carers